Home
»
Departments
» Fire Department
Fire Department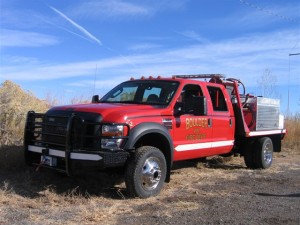 The Boulder Volunteer Fire Department is, as the name implies, a strictly volunteer organization, funded primarily by the Town of Boulder. It responds around the clock to address life-hazard emergencies in the community. Activities include fire prevention and suppression, both structurally and within the wildland/urban interface, vehicle accident scene management including victim extrication, and assisting the local EMTs on medical aid calls. Despite everyone's busy schedules, they manage to make time for continuing education via training sessions throughout the year, as well as attending the Winter Fire Academy held each January in St. George. In 2006 BVFD was awarded its first-ever ISO (fire insurance) rating, significantly lowering residents' costs, and in 2008 the department was the recipient of federal and county grants toward the purchase of a new urban/wildland/search and rescue truck which will be of great benefit.
Councilmember in Charge – Steve Cox
Fire Chief – Corry Johnson
Fire Marshal – Pete Schaus
Volunteer Firemen: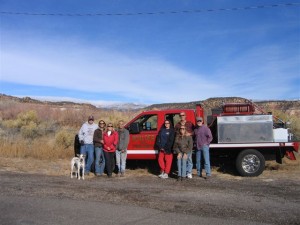 B.J. Orozco
Caroline Gaudy
Katie Austin
Mark Austin
Kandice Johnson
Phillip Nelson
Cookie Schaus
Gordon Bosworth
Max Shrives
Shane Coleman
Considering the size of Boulder, we are very fortunate to have both the number of dedicated and enthusiastic volunteers that we do, as well as the strong support of the community and Town of Boulder.