Town Council Liaison – Conrad Jepsen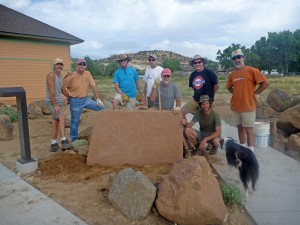 Committee Members
Laura DeMay
Tina Karlsson
Julie Robinson
Sam Stout
Ana Sanders
Boulder's Park Committee is charged with formulating recommendations to the Town Council on the design of the Town grounds and park. The committee have been successful in securing hundreds of hours and thousands of dollars worth of donated labor, materials, and money.
They finished three small pocket parks: one immediately north of the Post Office, another south of the Post Office, and the third between the Firehouse and Highway 12.  Fond remembrances of Bob and Naomi Brems who were the force behind the landscape maintenance of these areas.
The old playground equipment has been refurbished and new equipment has been purchased.  An activity shelter has been built on the north side of the Firehouse.  With the completion of the remodeling of the Town Hall, additional work was done to restore the landscaping that suffered during that project.  A new sprinkling system has been installed, the south lawn has been rejuvenated, and a natural landscape, including a petroglyph stone, has been placed north of the walk.  The grounds are being well used.  Congratulations on a beautiful job done by the Park Committee and dozens of volunteers.
The Committee is directing its efforts toward developing the acreage south of the Town grounds which is leased from the BLM.  The area will become a Town park with pathways and minor development to make it a place that can be accessed and enjoyed by the public.  A footbridge has been placed at the entrance, a stone sign identifying the park is in place, a walking path traversing the park from north to south is finished, and a picnic pavilion and restrooms have recently been completed.
The Committee's current project is establishing guidelines for residents wishing to install a memorial bench or other physical amenity within the park. Suggestions from the public are always welcome!